Kettle Boils Again for QPR
Preston 0-0 QPR

Rangers came away from Deepdale with a deserved point with large thanks to the heroics of keeper Lee Camp, and despite the best efforts to prevent it from referee Trevor Kettle and one of the worst linesmen I have ever seen in this division.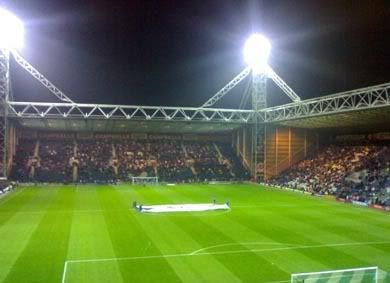 Although a long journey, it was pretty much painless and I arrived in good time to meet West Yorkshire based fans Paul, Joe, Vickie and on loan 'Arsenal' fan, Dan, who deservedly had had a much shorter midweek journey this time around. It was also good to see that a healthy R's following of around 500 had also made trip on a cold night in Lancashire.

The first half was pretty tight after Rangers had made a bright start. But following some half hearted penalty appeals from the home side, Preston were eventually awarded a ridiculous one on 35 minutes. As the ball was zipping around the Rangers penalty area, the ball indeed bounced onto Cranie's hand, but seeing as he was looking in the completely opposite direction, it could hardly be called intentional. In fact, referee Kettle waved the appeals away, only to change his mind as his linesman started waving his flag like a mad thing. Following some lengthy protests, Paul Gallacher stepped up, only for Lee Camp to dive to his right to make the save. The celebrations in the stand and on the pitch, including an ironic gesture at the linesman from the penalty saving keeper, showed just how much justice had been done!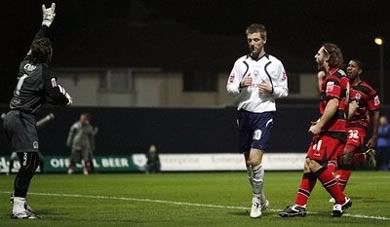 Onto the second half and Preston upped the tempo as you would expect a home side to do only to find Rangers in stubborn mood. Rangers broke sporadically, but when doing so, played some neat and tidy football with Vine, Ephraim, Nygaard and Rowlands all having chances. But all in all, the plaudits go to Lee Camp once again, with two further stunning saves to keep out Whaley and Davidson.

QPR: Camp, Barker, Stewart, Mancienne, Bolder, Ainsworth (Nygaard 56), Rowlands, Ephraim, Vine, Leigertwood, Cranie. Subs: Cole, Bignot, Moore, Sahar.

Lofty's Man of the Match - Lee Camp, a stunning display!!

All in all, I was pleased with the result and the performance of the players. They battled hard and at times, played some decent football. Although the front pairing of Vine and Ephraim is obviously not working and as per Saturday, Rangers looked more of a threat attacking wise when Nygaard came on. As already mentioned, the Officials were dreadful and I am amazed that 5 Rangers players were booked in what was by no means a dirty game. However, it did seem that the radio coverage back home was extremely negative, as I was recieving texts from friends saying that things like 'Preston were all over us' and 'Nygaard can't keep on his feet'. Okay, this wasn't the best game of football in the world, but it certainly wasn't how the radio stated...

Before I sign off, I must just mention some of the most discraceful stewarding that I have seen in a football stadium for some time. So much so, has led to me contacting Preston this morning and speaking to the Stadium Manager. To be fair, he was both agreeable and pleasant to talk to, but just to be told the matter will be 'dealt with', I find not acceptable.

After about 10 minutes of the game, both sets of fans were in good spirits and enjoying the normal sort of banter that you would expect. It must be mentioned at this time that both sets of fans were standing - then, enter approximately 6 burley stewards. You could tell by the way they were pounding up the stairs that their manner was somewhat aggresive. It led to some heated debate and a ultimately, a 15 year old lad being held in a headlock, wrestked to the ground and then forceably ejected - and for what, standing up?!?

The behaviour was so bad that even the stewards who were already present in the stand were trying to intervene and when being question by concerned fans, myself included, just what was going, we were given some, let's just say, foul mouthed alternatives to the English language. There were several photos taken and hopefully, better than mine to which in fairness, just looks like a bit of a scuffle. But even so, the question has to be asked as why these so called stewards, who are supposedly required to look after the safety of the public, feel that they can behave in this manner?

I must also add, that the majority of the stewards in the away end were both friendly and helpful and I have no wish to tar them all with the same brush. I also felt this had to mentioned after the match, to whom I must say, was a very attractive female police officer, who again, said that the matter will be 'dealt with', but also said that these 'stewards', and I use the term loosely as they were nothing more than thugs, were NOT regular Preston North End stewards. My work means that I occasionally deal with a security company and the officers now have to be publically licensed - AND, have no right whatsover to use physical contact on members of the public, let alone what many witnessed last night!