Rangers Bounce On...
Luton 2-3 QPR

Going to watch Rangers at the moment is a bit like getting on a rollercoaster. But one thing is for sure, if you want goals and entertainment, then go and watch a QPR game. There seems to be no end to these 'goal fests' we are currently enduring, and today was no different.

With Corporate having to work, and DJ yet again joining the 'prawn sandwich' brigade at Twickenham for the rugby, the gang had a unfamiliar look about it. But due to some gratefully received complimentaries from a certain player, Myself, PK, Corinne and Dad, Becky and Pete all squeezed into those comfortable seats in the away end and suprisingly enough, managed to find somewhere to have a drink before the game!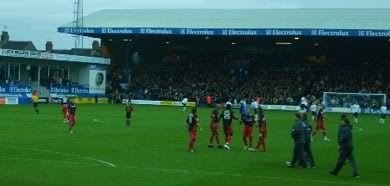 Onto the game and it seems that Rangers have finally put this 'early goal' thing to bed, well at least I hope so! In fact, we had to wait 33 minutes for the first goal and it was Rangers that got it. Jimmy Smith was on target yet again tapping home Cook's excellent free kick - and yes, I did say 'tap in'!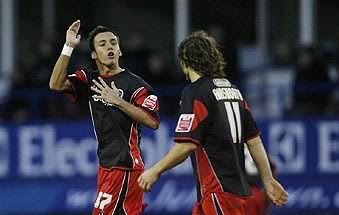 It was all one way traffic from here but incredibly, we found ourselves trailing at the break - two quick goals on the stroke of half time from Boyd and Brkovic had the Hatters in front and it would be fair to say, it was against the run of play.

But if you just looked around the away end during the interval, the R's fans seemed quite content and upbeat. Almost as if we knew that Rangers would come back and on 54 minutes, we were back in front! A Heikkenen own goal had brought us level, before the hard working Dexter Blackstock fired home Nygaard's flick on.

The game then suprisingly went a bit quiet and during the last 20 mintues, Luton started to put us under a bit of pressure. But Rangers defended superbly (did I just say that?) and held on for a great 3 away points.

QPR: Royce, Mancienne, Stewart, Rehman, Bignot, Ainsworth, Bailey, Smith, Cook, Nygaard, Blackstock (Gallen 79) (Ward 89) Subs: Jones, Milanese, Baidoo

Lofty's Man of the Match - again, some superb midfield performances from Cook, Ainsworth, Smith and Bailey. But the winning goal and yet another 'run himself into the ground' effort, clinched it for Dexter Blackstock.

Well what else is there to say? I could pinpoint the defence again, but when we are scoring so many goals and now turning these performances into victories - who cares??

Come On You R'sssssssssss!!!
©LOFTY